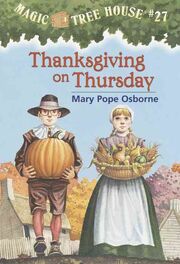 No Title

Book #

27

Previous

Next

Quartet

Publication date

September 24, 2002

Time setting

1621

Place setting

Plymouth, Massachusetts

Internal chronology

No information
Thanksgiving on Thursday is the twenty-seventh installment to the Magic Tree House series.
Plot
Jack and Annie travel in their magic tree house to the year 1621, where they celebrate the first Thanksgiving with the Pilgrims and Wampanoag Indians in the New Plymouth Colony.
Chapters
What Feast?
Shh! 
Wow?
We Fish!
Eels and Clams
Good Work
Arm Exercises
The Feast
Good Day
Thankful
Notes on time and place settings
Ad blocker interference detected!
Wikia is a free-to-use site that makes money from advertising. We have a modified experience for viewers using ad blockers

Wikia is not accessible if you've made further modifications. Remove the custom ad blocker rule(s) and the page will load as expected.