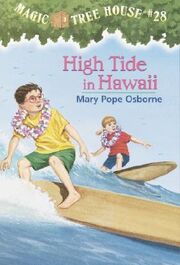 High Tide in Hawaii is the twenty-eighth installment to the Magic Tree House series. In this story, Jack and Annie share an adventure with two Hawaiian kids their age who become close friends with them.
Gallery
Ad blocker interference detected!
Wikia is a free-to-use site that makes money from advertising. We have a modified experience for viewers using ad blockers

Wikia is not accessible if you've made further modifications. Remove the custom ad blocker rule(s) and the page will load as expected.