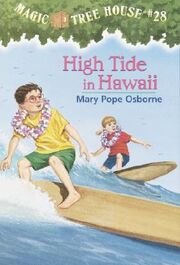 No Title

Book #

28

Previous

Next

Quartet

Publication date

March 25, 2003

Time setting

No information

Place setting

Hawaii

Internal chronology

No information
High Tide in Hawaii is the twenty-eighth installment to the Magic Tree House series.
Synopsis
Jack and Annie travel in their magic tree house back to a Hawaiian island of long ago where they make friends, learn how to surf, and encounter a tsunami.
Chapters
A Ship?
Aloha!
Sleepover
Garden Paradise
GO!
Shake-up
Ride for Your Lives!
The Big Wave
Telling the Story
Everyday Magic
Notes on time and place settings
Ad blocker interference detected!
Wikia is a free-to-use site that makes money from advertising. We have a modified experience for viewers using ad blockers

Wikia is not accessible if you've made further modifications. Remove the custom ad blocker rule(s) and the page will load as expected.