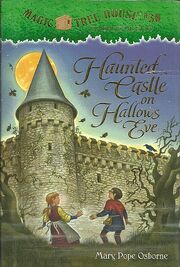 No Title

Book #

30

Previous

Next

Quartet

Publication date

June 18, 2003

Time setting

October 31

Place setting

Camelot

Internal chronology

No information
Haunted Castle on Hallow's Eve is the thirtieth installment to the Magic Tree House series and the second of the Merlin Missions. This is also the first book where Jack and Annie have proven capable under the right circumstances of performing their own magic.
Synopsis
In their magic tree house, Jack and Annie are again transported to King Arthur's realm, where invisible beings, giant ravens, and mistaken magic spells have a duke's castle in an uproar on Halloween night.
Chapters
All Hallows Eve
The Heart of the Oak
Rok
The Castle
Ghosts!
Merlin's Diamond
One, Two, Three
SPREE! SPREE!
A Piece of a Star
Where Is It?
Or Else!
A New Day
Jack and Annie's Magic
Notes on time and place settings
Ad blocker interference detected!
Wikia is a free-to-use site that makes money from advertising. We have a modified experience for viewers using ad blockers

Wikia is not accessible if you've made further modifications. Remove the custom ad blocker rule(s) and the page will load as expected.