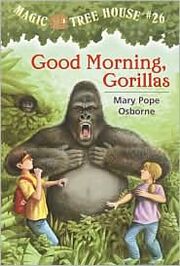 No Title

Book #

26

Previous

Next

Quartet

Publication date

July 23, 2002

Time setting

No information

Place setting

Africa

Internal chronology

No information
Good Morning, Gorillas is the twenty-sixth installment to the Magic Tree House series.
Synopsis
The magic tree house takes Jack and Annie to an African rainforest, where the siblings encounter gorillas and learn to communicate with them.
Chapters
Dark and Rainy
Cloud Forest
Bu-bu
Nightmare
Silverback
Good Morning, Gorillas
Eating Out
A Special Language
Good-bye, Gorillas
A Special Magic
Notes on time and place settings
Ad blocker interference detected!
Wikia is a free-to-use site that makes money from advertising. We have a modified experience for viewers using ad blockers

Wikia is not accessible if you've made further modifications. Remove the custom ad blocker rule(s) and the page will load as expected.