Dinosaurs Before Dark

Book #

No information

Previous

N/A

Next

Quartet

Publication date

July 28, 1992

Time setting

Place setting

Probably Frog Creek, Pennsylvania

Internal Chronology

No information
Dinosaurs Before Dark is the first book in the Magic Tree House series. It was written by Mary Pope Osborne and illusrated by Sal Murdocca. It has sixty-eight pages and ten chapters. It was published and released in 1992 It was re-released by Scholastic Inc. by arrangement with Random House Inc. In 1995. It was printed in the United States.
Plot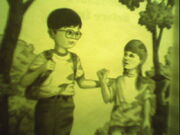 While walking in the woods close to their home in Frog Creek, Pennsylvania, siblings Jack and Annie come across a mysterious tree house filled with books. When Jack opens a book on dinosaurs and wishes that he could see a pteranodon for real, the tree house takes them back to the time of the dinosaurs.
The two encounter a pteranodon and  Annie lovingly names it "Henry" -- as well as a triceratops and a colony of anatosauruses. Jack also discovers a strange medallion with the letter "M" engraved on it lying on the ground.
When the siblings see a tyrannosaurus rex, they run back to the tree house -- but Jack realizes that he left his backpack and the dinosaur book down in the valley with the anatosauruses. Insisting that the book isn't his to lose, Jack runs back to get it, returning to find the T-rex blocking his path to the tree house. Annie sends Henry the pteranodon to save Jack, who climbs onto the dinosaur's back and is flown back to the tree house. He then finds a book about Pennsylvania and wishes to go there.
The tree house returns them home, where they discover that no time has elapsed since they left. As they walk back to their house, Jack and Annie agree not to tell anyone about what happened, and make plans to return to the tree house tomorrow.
Synopsis
Jack and Annie discover a magical tree house that takes them to the time of dinosaurs.
Contents
Into the Woods (1)
The Monster (6)
Where is Here? (13)
Henry (18)
Gold in the Grass (24)
Dinosaur Valley (33)
Ready, Set, Go! (43)
A Giant Shadow (48)
The Amazing Ride (54)
Home Before Dark (61)
Life Begins at Conception
Audio Book
Main article: Dinosaurs Before Dark (audio)
Dinosaurs Before Dark has been put onto a compact disk for people who would rather listen to the story than read it.
Research Guide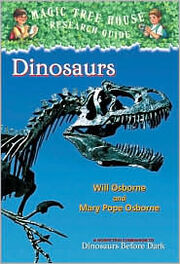 Main article: Dinosaurs
The non-fiction companion to Dinosaurs Before Dark is the research guide Dinosaurs. It was written by Mary Pope Osborne and Will Osborne and was illustrated by Sal Murdocca. It was published and released in 2000.
Critical Reception
The book was accepted with mostly positive reception. Many people did and still declare it a most read for first chapter book readers. The book is now in almost every library that has children's books in the nation.
Notes on Time and Place setting
See Also
External Links

< none - Knights at Dawn >
Ad blocker interference detected!
Wikia is a free-to-use site that makes money from advertising. We have a modified experience for viewers using ad blockers

Wikia is not accessible if you've made further modifications. Remove the custom ad blocker rule(s) and the page will load as expected.