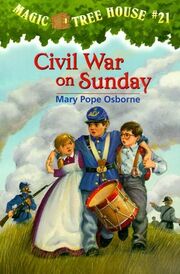 No Title

Book #

21

Previous

Next

Quartet

Publication date

May 23, 2000

Time setting

The American Civil War

Place setting

Civil War battlefield

Internal chronology

No information
Civil War on Sunday is the twenty-first installment to the Magic Tree House series. During the story, Jack and Annie help rescue a young Union drummer boy named John from the battlefield. Returning home, they learn, to their surprise and delight, that he's their great-great grandfather. The book is preceded by Dingoes at Dinnertime and succeded by Revolutionary War on Wednesday.
Synopsis
Jack and Annie are transported by the magic tree house to the time of the Civil War, where they meet Clara Barton.
Chapters
A Light in the Woods
Cruel War
Field Hospital
Freedom Fighters
Angel of the Battlefield
Keep Low
Helping Hands
Brothers
Don't Give Up
Home Sweet Home
Notes on time and place settings
Ad blocker interference detected!
Wikia is a free-to-use site that makes money from advertising. We have a modified experience for viewers using ad blockers

Wikia is not accessible if you've made further modifications. Remove the custom ad blocker rule(s) and the page will load as expected.