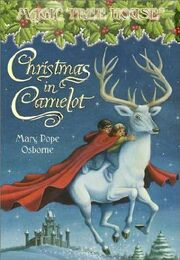 Christmas in Camelot is the twenty-ninth installment to the Magic Tree House series and the first of the Merlin Missions. Jack and Annie receive a message offering them the chance to spend Christmas in Camelot. However, when they arrive, they find its a dark and gloomy place where all magic has been banned after the Dark Wizard cast a spell to sap all the joy from the kingdom and the knights sent to find a way to break the spell never returned. Jack and Annie accept a mission from a mysterious Christmas Knight to try to break the spell and save the kingdom themselves. They succeed and learn from Morgan that the knight was actually Merlin the Magician who had acted when King Arthur refused to, believing that Jack and Annie could succeed where others had failed.
Ad blocker interference detected!
Wikia is a free-to-use site that makes money from advertising. We have a modified experience for viewers using ad blockers

Wikia is not accessible if you've made further modifications. Remove the custom ad blocker rule(s) and the page will load as expected.